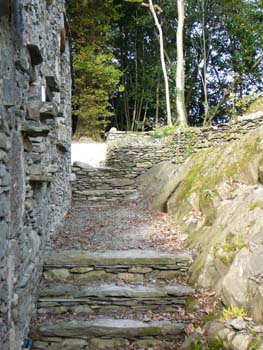 THE GARDEN
Broughton Bank Cottage has a secluded raised garden, overlooking a peaceful wooded pond. There's ample space for outdoor activities of all kinds. The seats of the outdoor dining area are formed by a limestone outcrop. With the outdoor cushions you can eat al fresco at the slate table, and there's even a herb garden planted with fresh herbs.

There's space enough at the top of the private drive for off-road parking for two cars. The garden at Broughton Bank Cottage is raised above the rest of the Broughton Bank garden: while this gives fantastic atmosphere and views it means that children and dogs need careful supervision while outside; some of the gradients are precipitous and, in contrast to Woodland Cottage, the garden is not surrounded by walls.

The mild climate created by the beneficial influence of the Gulf Stream makes Broughton Bank Cottage an ideal location all the year round.

The cottage is located on a quiet unclassified road north of Cartmel. Although close to the owners' home it is very secluded, being raised up and behind the main house: you are assured a truly peaceful and relaxing setting for your holiday.
Page created 31 March, 2017