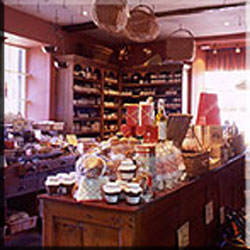 FOOD & DRINK
Calling all foodies... Mmmmhhhh.Can you hear that Cumberland sausage sizzling in the pan from where you are? Can your nose detect that spicy aroma of freshly baked gingerbread? Can't see the sun glisten through that amber pint? Can't taste the difference a locally reared chop and organically grown veg makes? No? Well fret not. Just head this way and let the country's finest produce and some of the best dining establishments remind you how proper food and drink should be. Welcome to The Taste District!
LOCAL PRODUCE
Tongue tingling, crisp, peppermint sweetness - Kendal Mint Cake has fortified conquerors of Everest and generations of walkers. More treats in the Cartmel Village Shop, an Aladdin's Cave of local fare, including irresistible Sticky Toffee Puddings, miniature, steaming castles of spicy flavour.
Cartmel Sticky Toffee Pudding at the Cartmel Village Shop

Search out the legendary Char, cousin of the trout, fished for in mirrored Lakeland waters and a 'special' on local restaurant menus. Cumbrian farmers produce Herdwick Mutton, a royal favourite, rich and gamey, tasting of the heather rich moors and often served with tart fruit jellies. Try them all at Higginson's Butchers in Grange and Airey's Farm Shop in Ayside.
Airey's Farm Shop, Ayside
Higginson's Butchers, Grange-over-Sands

Small towns and villages nestle in sheltered valleys and offer farmers' markets with an abundance of regional produce - air-dried hams and salamis alongside dry-cured bacon and mouth-watering cheeses crumbling with the goodness of locally produced milk.
Cartmel has its own Farmer's Market on the 3rd Friday of every month, where the delights of local fare, from free-range poultry and pork to locally made cakes and chocolates are are displayed in the square outside the Priory church, close by the local bakery and the famous Cartmel Cheese shop.
Cartmel Food Market
Cartmel Cheeses
The Bread Shed, Cartmel

Tea time is a major focus, from cream teas with home made jams served in a cosy tea shop like the Hazelmere Cafe in Grange, winners of Top Tea Place of the Year and annual winners of The Award of Excellence from the prestigious Tea Guild, to the internationally loved delights of afternoon tea at the Miller Howe Hotel, Windermere, where even the glorious view can't distract from the lightest of scones warm from the oven - with hand-piped butter 'swans'- glorious tarts and cakes rich with local cream and overflowing with fresh fruits.
Hazelmere Cafe and Bakery, Grange-over-Sands
www.explorecumbria.co.uk/food_in_cumbria/
www.farmersharp.co.uk

How about eating your way round the Lake District and burning off a few calories too? If you bring your bikes on the train, Cartmel Holiday Cottages will, by prior arrangement, collect your luggage from the station, and you can find good cycling route suggestions here. Alternatively the Lake District has a network of bike hire centres around which you can access from the same page.

RESTAURANTS, INNS, PUBS, TEA & COFFEE SHOPS
L'ENCLUME RESTAURANT - Cartmel
Simon Rogan's converted smithy caught the judges' eye as one of the most ambitious provincial restaurant openings this year. Already, its signature 19 course menu has created quite a storm, with Rogan priding himself on staging the "ultimate dining experience" using wild herbs, flowers and roots sourced from the local valleys to develop unusual flavour and texture combinations. Rave reviews from Harden's contributors - and a busy-booked out restaurant - suggest his philosophy works to great effect.
BLACK COCK INN - Broughton-in-Furness
This charming C16th coaching inn is locally renowned for the quality of its food and special atmosphere.The menu and daily specials of the Chef, Janet Atkinson, display creativity which is complemented with an extensive wine list and a fine selection of real ales.
Speciality: Cumberland pie & sausage, Herdwick lamb.
WATERMILL INN - Staveley/Kendal
Tranquil location on the Windermere - Kendal road, this charateristic pub serves an excellent range of bar meals and constantly changing chef's specials board. It also offers up to 16 real ales on handpumps from all over the country at any one time, giving you the widest choice in the Lake District. 'Who could ask for more?'
CAMRA Good Pub Guide - Best Beer Pub of the Year 2001.
Speciality: Coniston Bluebird beef & ale pie, venison casserole, local lamb
www.virtualcumbria.net/food/index.htm
LOCAL RECIPES
Westmorland Tatie Pot - Cumberland Sauce, Witherslack Damson Cobbler, Cumbrian Lemon Cake and of course, the local sausages, always there to slake hungry appetites.
www.golakes.co.uk/taste/recipe_tatie_pot.htm
BREWERIES
There are 29 actually producing breweries and 5 real cider makers in Cumbria and 7 major Brewing events - mainly in the autumn. Local pubs offer a selection of locally brewed beers which are well worth trying.
Cumbria Breweries directory from CAMRA
Page created 25 November, 2015