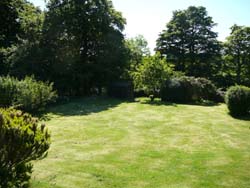 THE GARDEN
Woodland Cottage has a large garden with flat and raised areas. It offers ample space for outdoor activities of all kinds. Pleasant garden furniture is provided.
There's a lockable shed suitable for bicycle storage and off-road parking for up to three cars.
The mild climate created by the beneficial influence of the Gulf Stream makes Woodland Cottage an ideal location all the year round.
The cottage is located on a quiet unclassified road north of Cartmel separated from other houses by farmland. With magnificent views over the valley you are assured a truly peaceful and relaxing environment for your holiday home.
Page created 25 November, 2015