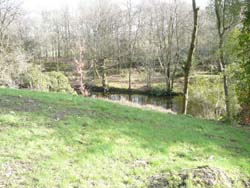 Our Values
As the cottage owners, we want to make the kind of place where we would want to stay. Before we came to live in the Lake District we stayed in a few places here and found out a little about what worked and what didn't.
When we go on holiday we want to find a place that is clean, comfortable and cosy.
To offer somewhere that's properly clean, it has to be easy to keep clean. For this reason, both cottages have polished wood floors, sofas with removable washable covers and easy straightforward kitchens. This provides an environment that's good for people who are allergic to dusts &c.
We're in a northern county - it used to be Lancashire-over-the-Sands but with roads built in the C20th is now definitely part of Cumbria - and being cosy is important. Both cottages have sound central heating. Woodland Cottage has an oil-fired boiler on a preset timer, where guests can alter the thermostat to suit their needs, and a simple press-button can switch on the heating outside the preset schedule. Broughton Bank Cottage has underfloor Ground Source heating which continually keeps the buiding warm, controlled by thermostats in every room.
Another thing we want is peace and privacy. Quiet and having enough space allows one to unwind properly and really find the rest we need from those short moments of holiday. Both cottages have their own private areas outside and inside the houses: there's no sense of crowding for those times when you want to get away from it all.
When we arrive at our destination, we'd like a hot drink - the northern 'brew' we all need to recover from the exertions of travel. You'll always find some milk, tea, coffee and sugar in the cottage when you land there.
We try to maintain a sustainable lifestyle and business practice, and that extends to our Holiday Cottages: all the wood for the open fires comes from our own land. Woodland Cottage is traditional in design; Broughton Bank Cottage was a complete renovation so it was redesigned according to an ethos of sustainability. A pine tree on the property was showing signs of deterioration, and was dying: we felled the tree and seasoned the wood naturally for 18 months without resorting to kiln drying. So at Broughton Bank Cottage all the doors, skirting boards and most of the stairs were subsequently made from that pine. At Woodland Cottage the mantel shelf over the fire is made from locally felled oak.
We use wood as it's a sustainable material, but we also plant trees, quite a few, and usually every year, as you can see on the Broughton Bank Tree Map
The heating at Broughton Bank Cottage is from Ground Source, which costs a lot more to install but uses far less fuel over time than normal heating. The property at Broughton Bank also has a solar panel array generating electricity.
Strong communities are what make the Lake District such a rewarding and welcoming place to visit. Therefore we support our local businesses wherever we can. Other places to stay nearby will be recommended if we can't fit you in, and if the time you want to stay is less than our minimum period of three nights, why not try a nearby B & B we know is kept to a very high standard, Broughton House?
You'll find some fantastic food in the area: a cheesemaker and seller as well as a bakery in Cartmel; locally reared meat from butchers in High Newton and Grange-over-Sands. You'll find locally grown vegetables in season in Flookburgh and Allithwaite, and super fruit too. You might want to try cooking with the ingredients yourself so there are herb gardens outside each of the cottages.
Page created 1 April, 2019